Over 2000 young people in 160 schools are currently receiving tuition in 15 local authority areas across Scotland with SSDPT's help.
We work with state schools, local authorities and other partners to support tuition for pupils – usually from P5 and above in primary schools that feed into one or two secondary schools. This approach provides continuity for the young people, and can help with transition.
SSPDT prioritises
areas where there is no in-school tuition or where the addition of drumming to piping instruction enables the formation of pipe bands
remote areas
areas of socio-economic deprivation
VIEW GRANTS AND INSTRUMENT LOANS 2016/17

IN THE SPOTLIGHT
Govan Schools
The Govan Schools programmes started in 2014 and within a few short months some of the pupils had progressed so fast that they were able to enter a quartet of pipers into the Scottish Schools Pipe Band Championships! This short film shows how they got on.
---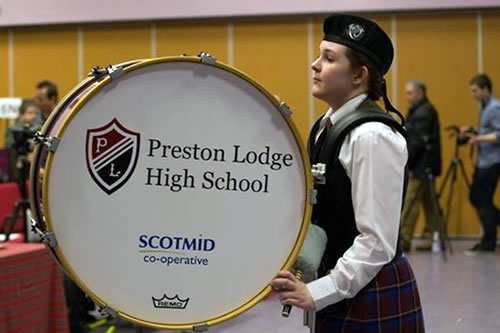 Preston Lodge High School and cluster
Much of SSDPT's work builds on this programme which started in 2007 under the auspices of the East Lothian Pipes and Drums Trust. Now Preston Lodge High School has two flourishing pipe bands.
---